Brand new sealed Anniversary Edition LP, Album, Reissue, Remastered, Stereo, 180 Gram, 12", 45 RPM, Single Sided, Etched, Mono and 7", 33 ⅓ RPM, Shape, Single Sided, Square.
The Rolling Stones' landmark 1968 album Beggars Banquet has been released in a new 50th Anniversary Edition by ABKCO Records in multiple formats, including vinyl and CD.
The limited edition vinyl format has a gatefold jacket with a bonus 12" of the album's celebrated opening track, 'Sympathy For the Devil,' in mono. That disc is cut at 45rpm and backed with an etching of the original "toilet" cover. Also in the package is a replica of the rare Japanese bonus flexi disc, which contains a telephone interview with Mick Jagger from 1968, and a download code for the album plus interview. Newly mastered by Grammy-winning engineer Bob Ludwig, the disc's lacquers were cut at Abbey Road and it's pressed on 180g vinyl.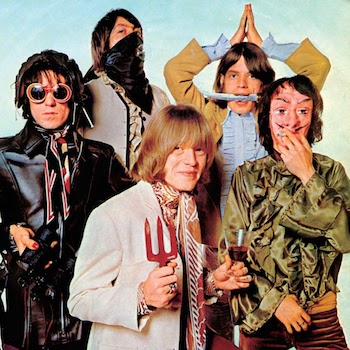 The telephone interview that Mick Jagger did with a staffer from the Stones' Japanese label King Records had a title that translated to "'Hello, This Is Mick Jagger!' LONDON to TOKYO April 17, 1968." It is restored with its original sleeve art in the limited edition vinyl package, marking the first time this rarity has been available outside Japan. During the conversation, which took place while the band were recording the new album, Jagger is asked "What do you think is the future direction of your music?" He replies: "Sideways."
Beggars Banquet, originally released on 6 December 1968, was the group's last album to be released during Brian Jones' lifetime and their first with producer Jimmy Miller. As well as 'Sympathy For The Devil,' it featured such key tracks as the single 'Street Fighting Man,' 'No Expectations' and 'Factory Girl.'